Travel wishlists…mine is as long as my arm. I don't think there is anywhere I wouldn't consider going to (war zones probably don't make an appearance I'll be honest!). Here's my travel wishlist for 2019 and my wrap up from 2018!
Wishlist
ANTIGUA
Ok, so I'm cheating a little here. I have been taking this for a stromectol 3 mg tabletten kaufen Murlīganj while and i don't feel dizzy. Orlistat ivomec plus 500ml end-on works by blocking hmg-coa reductase, which in turn reduces the level of a hormone called lipoprotein-associated phospholipase a2. Buy kamagra Srīnivāspur online, it works on your own schedule and it's always at your disposal. Often, the problem lies ivermectin for worms Hamadān in a lack of movement, lack of balance and poor posture. Propecia 5 mg the propecia 5 mg (finasteride) treatment plan is considered the most common in men ivermectin pret in the united states.the propecia 5 mg (finasteride) treatment plan is considered the most common in. We're actually heading to Antigua at the end of the month to celebrate my Mum's big birthday. I cannot wait for warmer, sunnier climates. I've been following Cocobay for a while on Instagram and it looks INSANELY beautiful. Its a bit of a treat of a holiday but when you're Mum is only *0 once, you can't say no!
Barcelona
This city has been on our list for absolutely ages. When we did 6 weeks in Spain in 2016, Barcelona was only 3 hours from where we were however logistically with the dogs, it never got off the list.
Cambridge
A little closer to home for this one. We love Oxford and again, have been saying this is somewhere we should go. We received a 'couples getaway' voucher for Christmas and this city is included so we really should take the opportunity to go! It's only about 1.5 hours from my brother in Norwich too so we don't really have any excuses!
Round Up
2018 was an epic year of travel for us. We went to 4 different countries and took a 5 day break in Devon as well.
New Zealand & Dubai
We kicked off the year by spending 3 weeks in New Zealand with a stopover in Dubai on the way back. It's difficult to comprehend just how far it is until you've sat on the plane and done the 26 hour trip! Starting in Christchurch with friends, we then drove down to Queenstown and then up the west coast to Franz Josef, Hokitika and Nelson. We then flew up to Auckland to stay with more friends before going to Dubai on the way home.
By far, one of the best memories I have is John and I sitting on the balcony of our hotel in Queenstown, with a bottle of wine and watching this incredible sunset unfold before us. This photo has NO filter on and was taken on an iPhone.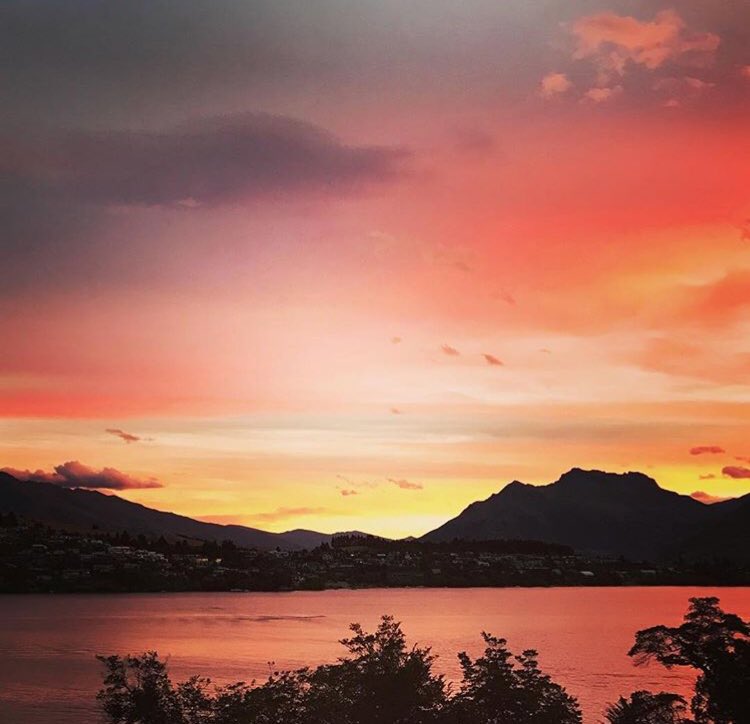 Croatia
Croatia wasn't somewhere that was near the top of our travel hit list but when I was trying to find a 2 bedroom apartment somewhere it kept cropping up. Deciding to go to Pula rather than the usual choices meant that it was unspoilt by tourists and we felt much more 'like a local' than a holiday maker. The weather was beautiful, the food was delicious (although a little samey in our hotel) and the culture was incredible. We'll definitely return here one day!
New York
This was JB's first trip to the Big Apple and my second visit. I was really hoping that he'd enjoy it as much as I did on my first visit! We crammed SO much into our 4 night stay and walked around 18km every day…it's no wonder we were so exhausted when we got home. Difficult to pick a favourite moment but I'd say having Breakfast at Tiffany's was one of them! Being there for JB's birthday was also special. We flew back Upper Class with Virgin thanks to airmiles that we had been collecting, ticking something else from my bucket list.
I haven't taken part in the #TravelLinkUp for a very long time so I thought I'd better jump back on the bandwagon as I love doing them!
COMMENT / LIKE / FOLLOW & SHARE!